You are here:
Home
»
VIP Covid-19 Provisions
Dear Valued VIP Family,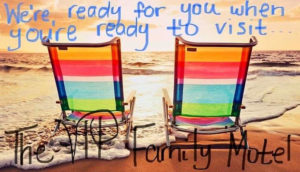 The well being of our guests and staff members at The VIP Family Motel is of paramount importance to us. Due to the current situation with COVID-19, we are implementing new guidelines to protect the safety of our guests and motel staff. This may result in a reduction of certain services and amenities that are normally available during a regular season. Please refer to the following so you will know what to expect during your upcoming stay with us.
In order to provide you with a clean and comfortable stay, we have enhanced our cleaning measures. Our enhanced measures include:
• Rigorous cleaning and sanitization of guest rooms; rest assured, everything from your air conditioner filter to the handle on your toilet flush will be sanitized and disinfected.
• Frequent sanitization of high-contact points, such as door handles, office counters, bathrooms, motel equipment and outdoor areas.
• Hand sanitizers will be located in common areas throughout the exterior.
• Infrared thermometer to conduct temperature checks for our employees each day.
• Provision of medical masks for our employees; guests must bring their own.
Please note: Face coverings are requested only while in our office. Guests are welcome to wear face coverings throughout the property, if desired, but not required.
• Regular training of our employees ensuring proper hand hygiene and awareness of COVID-19. This is vital to help combat the spread of viruses and for the health of our employees and guests.
We welcome our guests to their Home Away From Home
with the same warmth and hospitality we have always done.
---
Important Changes to Motel Amenities and Procedures:
1.) We request that only one member of each family enter the office upon check-in; the same procedure will take place for the duration of your stay as well as with check-out.
2.) We ask guests to please bring their own paper products and plastic cutlery. We have kitchen cooking utilities and pots and pans in our efficiency units; however, all dishes, glasses, coffee mugs and silverware have been removed for your safety.
3.) We will no longer be offering daily housekeeping. We will, however, provide housekeeping for stays five nights or longer, mid-week, scheduled when the room will be empty; this is for your safety as well as our staff's. For one week or longer stays, housekeeping will be provided every third day. Housekeeping will also be available as needed upon request.
* Please note: All bedspreads are washed between check-outs. Blankets will be provided upon request only.
4.) We ask each guest to bring beach towels to lay on the lounge chairs.
5.) Our Playground, Shuffleboard and Ping Pong amenities will still be available. Shuffleboard and Ping Pong games will require a strict return policy so that it may be sanitized between each use.
6.) We will have grilling equipment available; however, for your comfort, you may wish to bring your own utensils.
Stop The Spread – If You're Safe, We're Safe, Too!
Throughout the property, our guests will notice friendly reminders to follow the guidelines recommended by the Center for Disease Control and Prevention.
Please feel free to call with any questions or concerns that you may have. We are ready for you whenever you are ready. We look forward to welcoming you with a safe and comfortable vacation!
Sincerely,
Your friends at The VIP Family Motel
Click HERE to see a list of local businesses that are ready to serve you!
https://gwcoc.org/ready-youre-ready/
The VIP Family Motel
The VIP Family Motel
6505 Atlantic Ave
Wildwood Crest, NJ 08260
Phone: 609-522-2550